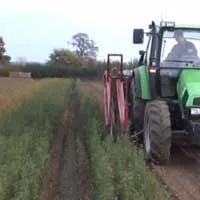 Grown
Grown and lifted by our specialist plant growers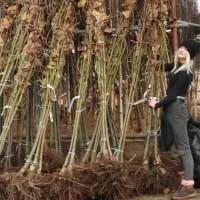 Picked
Picked by our team of experts from our Somerset nursery.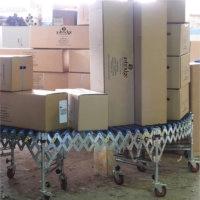 Packed
We've been packing and sending quality plants since 1949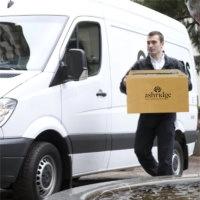 Delivered
Packaged by our experts and sent out by next day delivery.
Fruit Tree Delivery Sizes: Maidens, Bushes, Half-Standards & Mini Patio

Most of our fruit trees are sold bareroot or pot grown in more than one size: something to fit almost any garden.

• Maidens are unbranched, grafted one year prior.
They are the youngest, cheapest fruit tree you can buy.
They are the basic "building block" from which all other tree shapes are formed (apart from mini-patio trees, see below).


• "Bush" and half-standards forms are branched, grafted two or three years prior.
They are the most popular options for most gardeners, giving you a real head start on a mature tree:
The difference is that the bush form has a short trunk about 75cm tall, and the half-standard form has a trunk about 1.25cm tall.
The bush form is easy to harvest and takes up less space.
The half-standard form produces more fruit, and you can push a lawn mower around it more easily.


• We also grow several suitable apple and pear varieties as a ready-made cordon for growing diagonally on wires.

Mini-Patio Fruit Trees for Growing in Pots & Small Spaces

A small selection of our best varieties are available in dwarf forms that are ideal for patio pots and the smallest gardens.
They produce the same size and quality of fruit as a normal tree, the only difference is that the tree itself grows very slowly due to special grafting techniques, and they are delivered year round in pots, not bareroot.


Read more about fruit tree sizes.
Growing Fruit Essential TipsHow to Get Fruit Quickly?Pruning Fruit TreesChoosing Fruit TreesFruit Tree Pollination