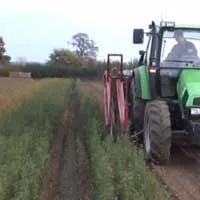 Grown
Grown and lifted by our specialist plant growers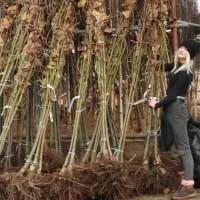 Picked
Picked by our team of experts from our Somerset nursery.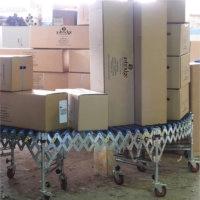 Packed
We've been packing and sending quality plants since 1949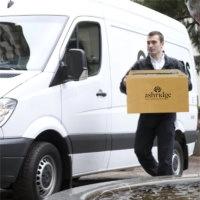 Delivered
Packaged by our experts and sent out by next day delivery.
Plum trees are vigorous and crop heavily, so they need plenty of sun and prefer a warm, sheltered spot that protects them from late spring frosts.
They thrive in well-drained, moisture-retentive soil such as clay or loam.

Which Plum Varieties Should I Choose?

The fruit of the plum family may be similar in appearance, but the flavour ranges hugely from sweet dessert varieties to cooking varieties that are practically inedible raw.

As a broad generalisation (with exceptions), Gages and Mirabelles are the sweetest, Plums are in the middle, and Damsons and Bullace are astringent-sour and need to be cooked.

The most popular Plum is Victoria: a really reliable producer, genuinely self-fertile, and delicious fresh or preserved.

Gages and Mirabelles have a sweetness that matches Turkish Delight: a tarte aux mirabelles, once eaten, is never forgotten, but if you have a lot of mouths to feed then they will probably eat them all fresh off the tree!

Gages tend to be sweeter and best eaten fresh (Cambridge Gage is a trusty British variety), and Mirabelles tend to be tangier and more multipurpose: if you had to pick one Mirabelle, de Nancy is excellent fresh or cooked.

Some Damsons and Bullaces, such as Merryweather, can be eaten fresh, and they all get sweeter as they ripen, but generally they need to be cooked.
The classic use for them is jam, and in Eastern Europe, damsons make the perfect Slivovitz.
A good damson wine is on par with port.

What Should I do with an Old Plum Tree?

Plums are relatively "live fast, die young" trees that tend to decline by the age of 30-40, if not before.

If you have inherited an old plum tree that isn't cropping too well, it's usually better to replace it.
Remember that you should not plant a new fruit tree of the same species straight into the spot where an old one was removed i.e. when you remove a Plum, replace it with something else like an Apple, Pear, or Quince.

If you know what variety it is, you can simply buy a new one, otherwise you could buy a few plum rootstocks and try your hand at grafting: it is very easy, especially with a willing subject like plums.
Where Can I Grow A Plum Tree?When and How do I Plant my Plum Tree?When and How do I Prune my Plum Tree?Thinning Plums as Young Fruit for Better Crops