Common Osier Willow Plants
Salix viminalis
The details
Salix viminalis
Shrubs
European. Can grow 3m/year. Loves wet sites. Ideal for basket making.
Sizes: Saplings Only.
Good windbreak / screening, but not a real clipped hedge
Max. Height: 4m
Bareroot Delivery Only: Nov-Mar.
Choose a size
How are they measured?
Qty
1-24
25 - 249
250 - 499
£
£2.34
£ 1.87
£ 1.64
£ 1.52
Delivery prices
Description
Salix viminalis: Bareroot Common Osier Willow Saplings
Delivered by Mail Order Direct from our Nursery with a Year Guarantee


Common Osier Willow, Salix viminalis, is a large, fast-growing waterside shrub, with dense, flexible stems and an upright growth habit. It is very vigorous, growing up to 1.5 metres per year. It has long, slender leaves that open following the appearance of catkins in spring, which are green on females and yellow on males. In the wild, it rarely reaches more than 3-6m tall, but with human attention it can grow close to 10m.
If you want a supply of willow withies to weave, or if you need a screen in a hurry, it's a great choice.

See our selection of willow plants or view our range of hedging and sapling plants.
Delivery season: Bareroot plants are delivered during late autumn and winter, approximately November-March inclusive.
Features
Height: To 6m
Soil: Ideally wet, with full sun, but will tolerate most soils except chalk.
Grows on the coast, but not with roots in seawater. Brackish water is tolerable.
Use: Screening, soil stabilisation, withies for weaving.
Single Row: 2 per metre
Growing Salix viminalis
Willows love wet soil and plenty of sun. They won't grow in salt water, but otherwise are happy in exposed coastal locations with salty winds. They will tolerate sites with industrial pollution, but not chalk.
Spacing a row of Salix viminalis: Plant at 2 per metre, 50cm apart in a single row.
Osier Willow in your Garden
It is excellent for growing as a low maintenance tall screen or windbreak; it is extremely vigorous and its shoots don't have enough side branches to make a "proper" formal hedge. For extra interest and wildlife value, interplant with other willow varieties
Its matted, fibrous roots, are ideal to reduce soil erosion on banks beside water.
Note: Willow roots will clog pipes and drains if they get into them like nothing else (Poplar and Alder are close contenders), so don't plant them closer than 10-15 metres to buildings.
Did You Know?
The Osier has been used widely for basket making from Europe to Asia, and it is usually what is being referred to by the name Basket Willow, although this can apply to other varieties as well. Other common names include hemp willow, velvet osier, and augers.
It is hard to tell where it originates from, because people were taking it with them as they moved around even before Roman times. Some experts believe it is native in the South of England and Wales.
Like many willows, it is widely planted around industrial zones and sewage treatment plants to help absorb heavy metals and other pollutants.
Planting Instructions
Growing Common Osier Willow:
It will grow well in most fertile, damp conditions as long as they aren't very acidic or chalky. It needs plenty of sun, and it is suitable for exposed locations, including on the coast, but not where its roots will actually be in salt water.
Prepare your site before planting:
Native hedge plants like Common Osier Willow are very tough. The only essential preparation is to kill the weeds in a strip a metre wide along the planting site: improving the soil should not be necessary. If your soil is exceptionally poor and dry, then digging in some well rotted manure and/or compost is worthwhile.
Watch our video on how to plant a country hedge for full details.
Remember to water establishing plants during dry weather for at least a year after planting.
Hedge Planting Accessories:
Prepare your site for planting by killing the weeds and grass with Neudorff WeedFree Plus.
You can buy a hedge planting pack with sheets of mulch fabric and pegs to hold it down.
If you are planting in an area with rabbit and/or deer, you will need to use a plastic spiral guard for each plant, supported by a bamboo cane.
If your soil quality is poor, we recommend using mycorrhizal "friendly fungi" on the roots of new trees and shrubs.
You can also improve your soil with bonemeal organic fertiliser and Growmore.
After you have planted your Common Osier Willow hedge, the most important thing to do is water it in dry weather. You will also need to weed around the plants. Watering should be thorough, so the ground is soaked. Let the soil almost dry out before watering again. Watering & weeding will be necessary for at least a year after planting.
To coppice Salix viminalis and harvest its stems for weaving, let your plants settle in for a year and then cut them down to less than 30cm tall the following winter. Cut them back like this every winter to encourage a steady supply of useful stems. If you cut them back every other year, you will get thick, less flexible stems to provide supports for sturdier items.
Special notes on caring for Common Osier Willow:
Common Osier Willow is a very tough plant that shouldn't need special attention once it has established.
Hygiene & Diseases:
Dead, damaged or diseased wood can be pruned off as soon as it appears.
Disinfect your pruning tools between every cut if there is any sign of disease.
Burn or dispose of any diseased material, do not compost it.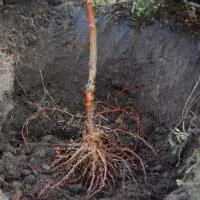 Bareroot?
Bareroot plants have no soil around the roots. They are light, easy to carry and plant.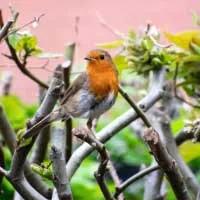 Perfect for Winter
The ground tends to be wet in winter, ideal for planting bareroot plants.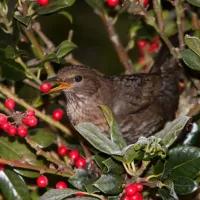 Value for money
You pay less for the same size bareroot plants, compared to potted.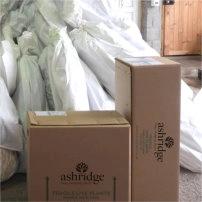 Delivered
Packaged by our experts and sent out by next day delivery.
Tag us @ashridgenurseries