Shottesham Pet Scented Pelargonium Plants
Pelargonium graveolens Concolor Lace
The details
Pelargonium graveolens
Pot Grown Herbs
Colour: Green foliage, pink flowers
Height and spread: 40cm
Scent: Spicy
Flowering: Jun-Oct
Uses: Culinary, aromatherapy
Spacing: 40cm

Habit: Bushy
Life: Tender perennial
Pot Grown: Delivery While Stocks Last
Choose a size
How are they measured?
Description
Pelargonium Concolor Lace
Also known as Pelargonium Shottesham Pet' this is a great performer for a small garden. Concolor Lace has a lot to offer for such a compact plant. These plants are often called geraniums, pot geraniums, or tender geraniums. Unlike some scented-leaved geraniums, Concolor Lace's flowers don't let it down. The deep coral pink, almost red single blooms are enhanced by dark maroon veining and a white throat. Flowers are produced in profusion from June to October.
Browse our other Pelargonium varieties.
The bushy little plants only reach 40cm x 40cm, covered with wonderfully scented bright green leaves with lacy edges. And what a scent! The slightest of touches will release a strong spicy, almost nutty perfume, as the leaves are jam-packed with essential oils.
Both the petals and leaves are edible and are widely used as a garnish, in aromatherapy and as a component of pot pourri.
Features
Colour: Bright green lacy foliage, deep pink and maroon flowers.
Height and spread: 40cm x 40cm.
Scent: Spicy and nutty.
Flowering: June to October.
Uses: Culinary, aromatherapy, pot pourri.
Spacing: 40cm.
Habit: Bushy and compact.
Life: Tender perennial.
Pot Grown: Delivery While Stocks Last.
Growing Concolor Lace
Scented-leaved Pelargoniums are most often grown in pots, especially classic plain terracotta containers. This traditional material allows the plant to drain freely so the roots don't get waterlogged, which the plants hate. Only water when soil is dry 5cm below the surface.
However, they can be planted in moderately fertile well-drained beds or borders - add a handful of grit to the planting material to aid drainage and avoid cold clay or waterlogged soils. Concolor Lace prefers to be in full sun facing south or west in a sheltered spot but will tolerate a small amount of shade.
When temperatures drop below 5C, bring plants indoors to overwinter. Deadhead, reduce watering and keep barely moist. Cut back and repot in spring and increase watering. Move outdoors after the last frost is expected.
Inspect regularly for vine weevil, greenfly and whitefly. Avoid splashing plants with water, as this can lead to grey mould (botrytis).
Planting Companions for Shottesham Pet
Concolor Lace is perfect for hanging baskets and containers, especially near paths with heavy traffic where people brushing against the foliage can appreciate the sudden bursts of perfume. As it is so compact and drought tolerant, it will tolerate the odd missed watering! Make this perfumed edible hanging basket or large pot with plants that like similar conditions - Tricolour Sage, Thyme Silver Queen and Chives. It's a great project for beginners with variegated leaves, colourful flowers and contrasting leaf shapes and plant forms.
It is an ideal choice to bring some colour to your herb garden with its vivid flowers and complementary scent.
This Pelargonium is also a good choice for a gravel garden, where it will appreciate the sharp drainage. In a Mediterranean garden, combine it with showier Zonal and Regal pelargoniums in troughs on balconies and in pots to get their showier flowers and Concolor Lace's lovely fragrance and more delicate blooms.
In a low-maintenance contemporary courtyard design, pair it with grasses and brightly coloured dwarf Phormiums (New Zealand Flax).
Did You Know?
It is also known as Shottesham Pet - they're exactly the same plant.
Pelargoniums are often called geraniums, arising from confusion with hardy perennial geraniums, or cranesbills. In the 17th Century when the first plants came to Europe, they were given the name because their seedheads look similar - like a crane's bill, long and pointy. Carl Linnaeus included both in one genus, Geranium, but in 1789, they were placed into two genera by botanist Charles Louis L'Héritier de Brutelle.
Mostly native to South Africa, there are more than 250 wild species of Pelargonium. Other natives are found in Australia, the Middle East, New Zealand, Eastern Africa, Madagascar, St. Helena and Tristan de Cuhna.
Scented-leafed pelargoniums are categorised by scent groups - pungent, citrus, fruit, nut, mint and rose. The leaves have scent glands that release perfumes when brushed.
Planting Instructions
How to plant Pelargonium Concolor Lace
Choose a spot in full sun. Add a handful of grit to aid drainage in beds and improve the soil from the hole by removing roots, weeds, large stones. Mix in about 25% by volume of well-rotted compost or manure.
Position your Pelargonium so its roots are spread out, wet them and sprinkle them with Rootgrow mycorrhizal fungi. Backfill the hole with mixed soil and compost, firming it gently as you go. Water in thoroughly.
In pots, use peat-free multipurpose compost. Deadhead regularly. Feed with high potash plant food fortnightly in summer.
Overwinter under glass and keep barely moist. Cut back, repot and increase watering in spring.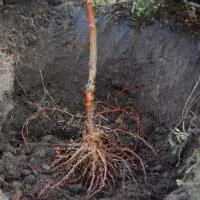 Bareroot?
Bareroot plants have no soil around the roots. They are light, easy to carry and plant.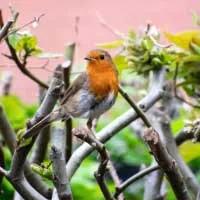 Perfect for Winter
The ground tends to be wet in winter, ideal for planting bareroot plants.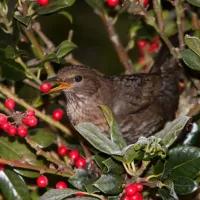 Value for money
You pay less for the same size bareroot plants, compared to potted.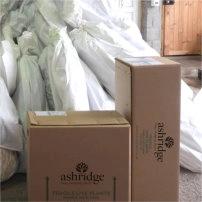 Delivered
Packaged by our experts and sent out by next day delivery.
Tag us @ashridgenurseries