Common Walnut, Large Trees
Juglans regia (Standard)
The details
Delivered in Large Sizes
Nuts in October. Autumn colour.
Needs full sun.
Sizes: Standards & Saplings.
Max. Height: 30m
Bareroot Delivery: Nov-Mar.
£
£124.98
£ 120.80
£ 116.65
Delivery prices
Description
Juglans regia: Bareroot Common Walnut Trees in Standard Sizes
The Common Walnut tree, Juglans regia, is large, and slow-growing, spreading widely into a shaggy, round headed specimen when mature. Its leaves are aromatic when they are young and turn a rich golden yellow in the autumn. It produces delicious nuts in the autumn, starting about 10 years from planting.
They will grow to about 30 metres and can sometimes spread wider than that.
We also deliver younger walnut saplings, and black walnuts, Juglans nigra.
Browse our large garden trees, or all of our trees.

Delivery season: Walnut trees are delivered bareroot during late autumn and winter, approximately November-March inclusive.
Choosing a size: Small trees are cheaper, easier to handle and more forgiving of less than ideal aftercare, so they are best for a big planting project. If instant impact is your priority, or if you are only buying a few plants for use in a place where it is convenient to water them well in their first year, then you may as well use bigger ones. All our bareroot trees are measured by their height in centimetres above the ground (the roots aren't measured).
Features:
Height: 30m
Crops October
Soil: Any well drained, sunny
Naturalised in South
Bareroot delivery only: November-March
Growing Walnuts
Clay soil in warm areas is fine, light and well drained is recommended in the North, also shelter.
Using long sticks, ideally with smooth or padded tips, to rattle the branches when the nuts are nearly ripe in late September and early October helps to save your crop from the squirrels.
Growing trees tall and straight for timber is effectively the opposite of growing them open and branching for the biggest accessible crops. Timber trees are grown close to other trees and have side branches removed. Trees for nuts are grown in the open and have their central leader cut at a manageable height, and wide branching is encouraged.
Did You Know?
Juglans regia is the regal walnut, Juglans deriving from Jupiter's Acorn: Iovis glāns, although Romans called them Gallic nuts, nux Gallica, if they were grown outside Italia. Walnut in Old English is wealh+hnutu, foreign nut. Much like English Lavender, "English" Walnut is so called because it was grown here in such quantities for timber and crops. Its native range is considered to be Greece, the Middle East and Northern India, but it is naturalised across Europe and Asia, partly due to humans planting it. Walnut breeding these days is limited to China, California, France and the Middle East, and although some hundreds of cultivars exist, demand for them is low among gardeners: hazelnuts are so much easier to manage and faster to bear large crops. The black walnut is famously messier to process, and better in flavour.
The first walnuts, at least in terms of farming what were back then probably semi-cultivated varieties, were brought to Britain by the Romans, and along with most other things, they were preserved and bred by monasteries during the Good Old Days (Dark Ages was a misnomer) that followed the collapse of Roman power in the West. The timber is beautiful, soothing to admire with straight or wavy grain, and hard wearing, perfect for furniture and veneers. Seasoned walnut wood doesn't warp or swell, so it is used where durability, precision and aesthetics are required.
Standard trees are measured by their girth in centimetres 1 metre above ground level: their trunk's waist measurement. Unlike sapling trees and hedge plants, standards aren't measured by their height, which will vary quite a bit both between and within species.
So, a 6/8cm standard tree has a trunk with a circumference of 6-8cm and an 8/10 standard has a trunk 8-10cm around. This measurement makes no difference to the tree's final height.
On average, standard trees are 2-3.5 metres tall when they arrive, but we cannot tell you precisely how tall your trees will be before we deliver them.
Planting Instructions
Notes on planting Common Walnut trees:
These aren't the hardiest trees and while they will grow in the North, they are unlikely to make many nuts unless they have a really sheltered position that isn't prone to frost. They don't like cold clay soils, preferring lighter earth with good drainage that warms up quickly in the spring. They do not grow well in the shade.
Prepare your site before planting:
It is good to dig over the site where you plant a tree several months in advance. Kill the weeds first: for tough weeds like nettles, brambles and ground elder, you will usually need a weed-killer to get rid of them. When you dig the soil over, remove stones and other rubbish and mix in well rotted compost or manure down to the depth of about 2 spades.

Watch our video on how to plant a tree for full instructions.
Remember to water establishing trees during dry weather for at least a year after planting.
Tree Planting accessories:
Prepare your site for planting by killing the weeds and grass with Neudorff WeedFree Plus.
You can buy a tree planting pack with a wooden stake & rubber tie to support the tree and a mulch mat with pegs to protect the soil around the base of your tree from weeds and drying out.
We suggest that you use mycorrhizal "friendly fungi" on the roots of all newly planted large trees: if your soil quality is poor, we strongly recommend it.
You can also improve your soil with bonemeal organic fertiliser and Growmore.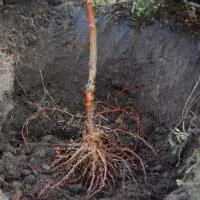 Bareroot?
Bareroot plants have no soil around the roots. They are light, easy to carry and plant.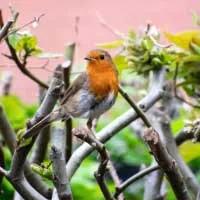 Perfect for Winter
The ground tends to be wet in winter, ideal for planting bareroot plants.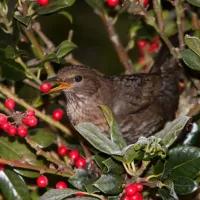 Value for money
You pay less for the same size bareroot plants, compared to potted.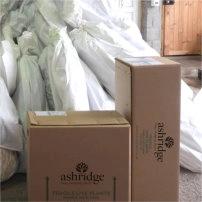 Delivered
Packaged by our experts and sent out by next day delivery.
Tag us @ashridgenurseries