Wilson's Shrubby / Box Honeysuckle
The details
Lonicera nitida
Hedge Plants
Size: up to 2 m
Soil: any
Use: hedging/topiary
Single Row: 3 per metre
Colour: dark green
Features: fast growing, evergreen
Bareroot Delivery: Nov-March
Choose a size
How are they measured?
Description
Lonicera Nitida, Evergreen Shrubby Honeysuckle Hedging
Delivered by Mail Order Direct from our Nursery with a Year Guarantee


Lonicera nitida is known as 'the poor man's box (Buxus)', an unfair description that sums up only a little of what Shrub Honeysuckle does best: providing a really bushy, evergreen hedge of tiny, dark glossy green opposing leaves that can be clipped closely into a very dense hedge, and is perfect for topiary.
Although part of the honeysuckle genus, its off-white flowers in Spring are weeny and hard to see, but still fragrant enough to add some value.
It will look good as a formal clipped hedge up to two, maybe three metres tall. After that, it can tend to look straggly at the top, but that should not put you off: it makes up for it by staying bushy at the base!
Browse our selection of evergreen hedging plants, our full range of hedging, or climbing honeysuckle vines instead.
Growing Shrub Honeysuckle
Lonicera nitida is a cheaper and quicker way of achieving an evergreen, medium-sized hedge than box, but box is still better for a hedge in the shade. If you want a taller evergreen hedge, have a look at yew.
It grows reasonably quickly, so you will attain your hedge structure fast, but you will need to clip a couple of times during the summer to maintain a crisp profile.
The twigs are supple when young, and easily trained. The vigorous, bushy habit that makes it popular as an evergreen hedging plant also means that the more you clip, the thicker it grows, quickly camouflaging any supports.
For those who are more relaxed and want a less precise hedge, Lonicera's way of becoming a little shaggy and unkempt if left to its own devices has a charm of its own when surrounded by perennial grasses or in a cottage garden.
It is very easy to "layer", which is simply pinning low stems to the ground so that they root. Lonicera nitida will typically layer itself if left to its own devices, which helps to keep the base of the hedge really thick and bushy even when neglected.
Features
Size: up to 2 m
Soil: any
Use: hedging/topiary
Single Row: 3 per metre
Colour: dark green
Feature: fast growing, evergreen
Did You Know?
Brought over from China by Ernest Wilson (1876 - 1930), one of the greatest plant hunters, who worked for James Veitch. He travelled round the world bringing back Clematis armandii, Berberis and many other plants without which our gardens would be bereft. Perhaps his most amazing find was the Actinidia deliciosa vine in China, now known as the kiwi fruit.
At Osborne House in the Isle of Wight, Queen Victoria's garden contained Lonicera nitida topiary stags emerging from a bedding of pelargoniums and Festuca glauca.
Anyone with an interest in bonsai should give it a try, it is an ideal species for a beginner.
Planting Instructions
Growing Lonicera nitida plants:
Your plants aren't demanding; any soil with decent drainage is fine, including chalk, and partial shade is fine. In the wild, these bushes often grow next to streams, so damp places work well. They are fully frost hardy, but they don't like exposed, really windy sites and don't like salt air. Lonicera nitida is suitable for inner city planting.
Prepare your site before planting:
Watch our video on how to plant a garden hedge for the best instruction. The plants in this video are delivered pot-grown, but planting out bareroot stock is essentially the same. Remember to water establishing plants during dry weather for at least a year after planting.
Hedge Planting Accessories:
Prepare your site for planting by killing the weeds and grass with Neudorff WeedFree Plus. You can buy a hedge planting pack with sheets of mulch fabric and pegs to hold it down. If your soil quality is poor, we recommend using mycorrhizal "friendly fungi" on the roots of new trees and shrubs.


After Care
Like all evergreen plants, Lonicera nitida is active and needs moisture in the ground throughout the year. This means that your plants need to be watered for about 12 months after planting if the weather is dry.
Trimming hedge plants:
Lonicera nitida is naturally bushy, so it doesn't need any clipping at all in its first year. In the winter of the year after planting, your young hedge should be trimmed lightly and every winter after that until it is mature.
When it is fully established, shrub honeysuckle grows quickly and can be clipped three times a year. Regular clipping is important: although your plants will regrow from a hard pruning if necessary.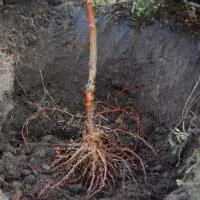 Bareroot?
Bareroot plants have no soil around the roots. They are light, easy to carry and plant.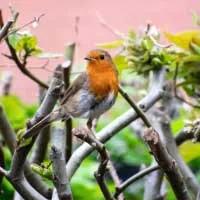 Perfect for Winter
The ground tends to be wet in winter, ideal for planting bareroot plants.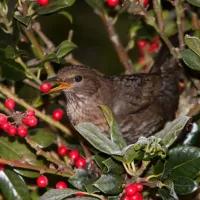 Value for money
You pay less for the same size bareroot plants, compared to potted.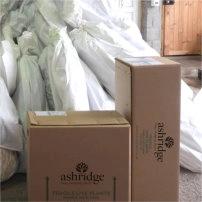 Delivered
Packaged by our experts and sent out by next day delivery.
Tag us @ashridgenurseries