Black Butte Blackberry Bushes
Rubus fruticosus 'Black Butte'
The details
Size: 2m x 2m
Fruit: Large 5cm x 2.5cm
Taste: Brix level 7
Use: Cooking, eating when fully ripe
Picking: Early season, Jul/Aug
Colour: Black
Spacing: 2m
RHS Plants for Pollinators
Choose a size
How are they measured?
Description
Blackberry Black Butte
If size is important to you when it comes to soft fruit, look no further than Blackberry Black Butte! Its massive berries are thought to be the biggest on the market, about double the size of ordinary blackberries, measuring 5cm long x 2.5cm wide and weighing about 12g. They're sought after for the show bench, being early fruiting and ready to harvest during July and August. Have a look at our extensive blackberry range here.
The berries have a Brix rating of about 7, which means they're not the sweetest but are a good choice if you want a dual-purpose fruit. They're one of those berries whose taste improves with cooking, and they hold their shape well, not collapsing into mush. Often described as having a 'proper' blackberry flavour, they can be eaten raw as a dessert berry when fully ripe. Like most blackberries, they freeze extremely well.
The stems are thorny but as the fruit is so large, they're still quite easy to pick. Each bush will produce about 3kg, not as much as smaller-fruited varieties, as the plant puts a lot of energy into producing such large berries. It's an excellent choice for gardening beginners, as it requires virtually no skill to get a decent crop. It is self-fertile with a vigorous, trailing habit.
Features
Size: Canes 2m x 2m.
Fruit: Very large and long, 5cm x 2.5cm.
Taste: Brix level 7, 'proper' blackberry flavour
Use: Cooking, preserving, freezing, eating when fully ripe
Picking: Early season, July and August
Colour: Black
Spacing: 2m
Stems: Thorny
RHS Plants for Pollinators
Growing Black Butte Blackberries
Most blackberries will cope with a wide range of conditions but Black Butte's large fruit means it needs a sunny spot. It's a very hardy plant, coping with winter temperatures down to -12C with ease.
Planting with lots of organic matter, plus a mulch and general granular feed in late winter/early spring will keep your plant in tip-top condition.
It produces fruit on last year's stems (a floricane variety), and the canes are vigorous and trailing, so it is best to grow them on wires firmly secured to a sunny wall or fence. Pruning is important - once the canes have fruited, cut them out from the base.
You can tie the new canes loosely in the centre of the plant to be trained onto the wires once the fruited stems have been pruned out or grow alternate years in different directions if you have space.
Black Butte in your Garden
At only 2m x 2m, it is a relatively compact variety, so is ideal for the kitchen garden trained against a wall or fence. As it is thorny, it makes a good boundary plant to deter intruders but it's better to plant it away from busy paths.
As the fruit are so large and very uniform, it makes an excellent show bench cultivar for late summer flower and veg shows.
If you have an allotment, this blackberry is good to grow in an open, sunny aspect along with a late-season variety, such as Chester, which will produce fruit until the first frosts.
Did You Know?
Black Butte was dubbed the 'world's largest blackberry' when it was bred in 1997 by the Agricultural Research Service, chief research agency of the US Department of Agriculture. Geneticist Chad Finn developed the berry along with the Oregon Agricultural Experiment Station.
Bees: It has been awarded RHS Plants for Pollinators status.
Planting Instructions
Blackberries are suitable for any soil type and will tolerate shade but a sunny site will give better crops, especially with larger-fruited cultivars. Plants will put up with some poor drainage but not waterlogging.
Improve the soil by adding well-rotted manure or compost. If planting more than one, space plants 2m apart, with 2m between each row. Avoid deep planting.
Train the vigorous, trailing stems onto a wire system. Four strong wires are best, the bottom one 1 metre above the ground and the top three with 30 cms between each wire.
Top-dress with 100g per sq m of general-purpose fertiliser in mid-spring and mulch. Keep the crown and new canes free from mulch to prevent rotting.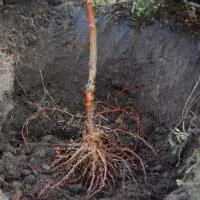 Bareroot?
Bareroot plants have no soil around the roots. They are light, easy to carry and plant.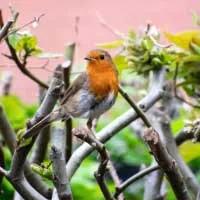 Perfect for Winter
The ground tends to be wet in winter, ideal for planting bareroot plants.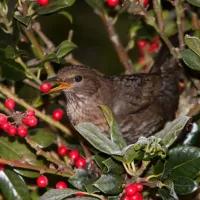 Value for money
You pay less for the same size bareroot plants, compared to potted.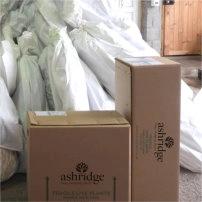 Delivered
Packaged by our experts and sent out by next day delivery.
Tag us @ashridgenurseries