English Holly Hedge Plants
Ilex aquifolium
The details
Ilex aquifolium
Hedge Plants
Evergreen. Any soil with decent drainage.
Hardy, tolerates shade.
Good formal hedging.
Max. Height: 15m
Potted Delivery Only: All Year.
RHS Plants for Pollinators
RHS Award of Garden Merit
Choose a size
How are they measured?
Qty
1-24
25 - 249
250 - 499
£
£6.72
£ 5.40
£ 4.80
£ 4.44
Qty
1-24
25 - 249
250 - 499
£
£7.92
£ 7.20
£ 6.72
£ 6.36
Delivery prices
Description
Ilex aquifolium
Delivered by Mail Order Direct from our Nursery with a Year Guarantee


Common Green Holly (Ilex aquifolium) is familiar to everybody and risks being taken for granted. Which would be a mistake: it is a special plant, holder of an RHS Award of Garden Merit, and here's why. Holly will grow into a beautifully shaped, medium-sized tree if left to its own devices, or it makes a dense and glossy hedge all year round. It makes the best possible wind break, due to its densely packed, stiff, and contoured leaves. It is a highly responsive plant for clipping into almost any formal shape. Add the fact that it is stock proof and can provide a lifetime's supply of Christmas wreaths and berries, and everyone should have some in their garden in one form or another. Simply one of the best all-round hedge plants that we grow and sell.
How to grow English Holly
Ilex aquifolium is so easy going, settling in well on all soils from acid to alkaline, sandy and dry to claggy clay. Holly will thrive in shade, on the coast, or next to the pollution of a busy road and, once established, is immune to long, hot, drought-ridden summers. It won't grow in the middle of a swamp, but it is fine next to one where the soil is wet most of the year and gets waterlogged periodically.
Start small. Ilex and its varieties such as Variegated Silver Holly and the all female holly Ilex aquifolium Alaska (guaranteed to berry) will grow away much more strongly if started off young. The amazing textural effect it achieves can be contrasted with yew or laurel to create a tapestry hedge and then you have the added bonus in the winter of bright red berries. As with all evergreen hedges it is the perfect backdrop for a mixed and colourful herbaceous border - try to include some bright winter reds to tie in with the berries - Skimmia rubella, Cornus sibirica or Cornus alba spaethii would all be obvious choices. Hollies also lend themselves to having their lower trunk stripped of branches so that you end up with a lollipop; an avenue of these look stunning. Especially so if you use a variegated variety.
Young plants are a target for rabbits, and they like to chew straight through the stem. If rabbits are present, younger 40/60 and 60/80cm holly plants will need protection with spirals or tree guards for the first couple of years. Bigger sizes have thicker stems and are unlikely to be targeted by a rabbit with other options.
Features
Size: 15 m as a tree
Soil: Any
Use: prickly hedging/topiary
Single Row: 3 per metre
Colour: dark green and shiny
Feature: red berries on female plants
RHS Plants for Pollinators
RHS Award of Garden Merit
Holly trivia
Holly wood is prized by fine furniture makers who use the pure white wood for inlay work. The bits of holly that you cannot use for furniture make good firewood. Mature holly bushes and trees are a popular habitat for many birds and insects, especially robins, thrushes and blackbirds who have a built-in berry canteen. And while nothing is immune to honey fungus, holly is on RHS list of resistant plants.
Planting Instructions
Growing Holly:
Holly is enormously hardy, wind-resistant and will grow well in seaside or industrial areas. It is tolerant of poor soil, deep shade and is very happy under large, deciduous trees that block out most of the sun during the summer; like any almost plant, it will grow faster in a sunny location. Holly is suitable for both chalky, alkaline soils and acidic soil, although it will grow more vigorously in acidic conditions.
It will not grow well if the site is too wet and boggy, but it likes damp soils and will cope with occasional waterlogging.

Rabbits love Holly bushes - Protect them:
Newly planted Holly is a target for rabbits, which like to bite young, green holly plants off at ground level.
If you have rabbits in your area, protect your saplings with spiral guards.
If you have a big rabbit problem, the 80/100 size plants are less vulnerable to being nibbled, although we still advise you to use spiral guards.
Prepare your site before planting:
Native hedge plants like Holly are very tough. The only essential preparation is to kill the weeds in a strip a metre wide along the planting site: improving the soil should not be necessary. If your soil is exceptionally poor and dry, then digging in some well rotted manure and/or compost is worthwhile.

Watch our video on how to plant a garden hedge for full planting details.
Remember to water establishing plants during dry weather for at least a year after planting.
Note: Holly sometimes drops its leaves soon after planting. This is normal, but it prevents the plants from losing moisture through their leaves, so it's best not to water your plants heavily if you have have a moist, heavy clay soil. If your soil is dry, water your plants thoroughly as normal.
Hedge Planting Accessories:
Prepare your site for planting by killing the weeds and grass with Neudorff WeedFree Plus.
You can buy a hedge planting pack with sheets of mulch fabric and pegs to hold it down.
If you are planting in an area with rabbit and/or deer, you will need to use a plastic spiral guard for each plant, supported by a bamboo cane.
If your soil quality is poor, we recommend using mycorrhizal "friendly fungi" on the roots of new trees and shrubs.
You can also improve your soil with bonemeal organic fertiliser and Growmore.
After Care
After you plant a hedge, the most important thing to do is water it in dry weather. You will also need to weed around the plants. Watering should be thorough, so the ground is soaked. Let the soil almost dry out before watering again. Watering & weeding will be necessary for at least a year after planting.
Like all evergreen plants, Holly is active and needs moisture in the ground throughout the year. This means that if the weather is dry in the winter when they are planted your establishing plants need to be watered.

Trimming Formal hedge plants: It is beneficial to pinch off the leaves at the tips of the leading stems at planting time, to encourage really bushy growth. From the winter after planting onwards, your young hedge should be trimmed lightly once a year, until it is mature. When it is fully grown, you can clip it at anytime: the ideal time is in winter, after the berries have gone. You can cut Holly back hard if it is overgrown - Holly plants will regrow quickly from a major pruning operation.
As with any prickly plant, we advise you to wear eye protection when you are pruning holly.
Special notes on caring for Holly hedges:
Holly is a very tough hedge plant that shouldn't need special attention once it has established. If you didn't use a mulch fabric, it is beneficial to mulch around the base of the hedge each year.

Hygiene & Diseases:
Dead, damaged or diseased wood can be pruned off as soon as it appears.
Disinfect your pruning tools between every cut if there is any sign of disease.
Burn or dispose of any diseased material, do not compost it.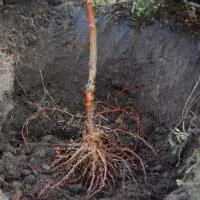 Bareroot?
Bareroot plants have no soil around the roots. They are light, easy to carry and plant.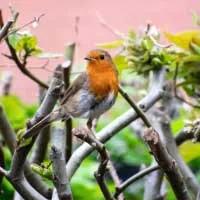 Perfect for Winter
The ground tends to be wet in winter, ideal for planting bareroot plants.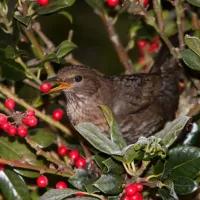 Value for money
You pay less for the same size bareroot plants, compared to potted.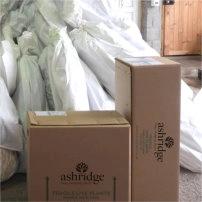 Delivered
Packaged by our experts and sent out by next day delivery.
Tag us @ashridgenurseries