Bamboo
Buy The Best Garden Bamboo Plants
Delivered Direct from Our Nursery
This Warm November Weather is still Good for Planting!

Phyllostachys, Pseudosasa & Fargesia Species

Bamboos are famous for their incredible growth rate, and being easy to grow with a few control measures.
They can be used as a wild hedge, tall screening, or kept in clumps for striking vertical ornamental value, and it's always handy to have a homegrown supply of bamboo canes, with or without a panda to feed.

They tolerate poor soils well as long as they are not also dry, and are most at home in sunny sites beside water.
In the British climate, their growth rate (and therefore the diameter and final height of each cane) varies quite a bit from North to South, and from sheltered sites to exposed locations, but our selection is a hardy bunch suitable for any region.

It is always essential to water new plants as they establish, and this goes double for bamboo, with their shallow roots and love of really moist, but not waterlogged, soil. Their shallow roots make them ideal for planting beside trees. To grow bamboo on a dry soil, digging in a lot of organic matter down to about 50cm and installing an irrigation system will make your life much easier!
Most bamboo thrives in a well maintained container, where their height will be restricted.

In the most general terms, bamboos spread via underground stems (rhizomes, or creeping root stalks) that grow in two main ways: clumping and running.

Clumping varieties have strong rhizomes (Pachymorph, meaning thick) that quickly turn upwards, so the clump expands slowly and is not invasive.
Running varieties aggressively send out weaker rhizomes (Leptomorph, meaning thin) that grow horizontally for some distance to colonize the surrounding area, so a plastic membrane is usually buried around the walls of the planting hole to contain them. 60-80mm thick high-density polyethylene (HDPE), buried 1.2 metres deep with a 5-10cm lip above soil level, should be plenty of protection anywhere in the UK (the colder your site is, the less aggressive the bamboo).
Several varieties that run in warm climates are in practice clumping in most areas of Britain, but often begin running once they are settled into ideal conditions in the South West of England and Wales.
Running varieties tend to have more upright growth and make the best screening, because you can prepare a sealed trench for them, plant one every metre or so, and let them quickly fill the gaps for you.
Your Bamboo plants are delivered by mail order direct from our nursery, along with expert advice, friendly support, plus our Guarantee, so you can give them a whirl with complete confidence.
Learn More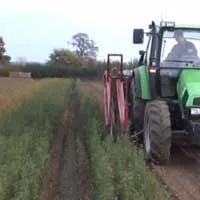 Grown
Grown and lifted by our specialist plant growers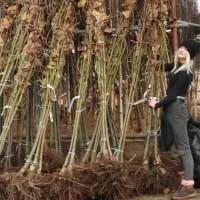 Picked
Picked by our team of experts from our Somerset nursery.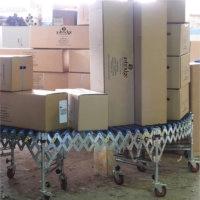 Packed
We've been packing and sending quality plants since 1949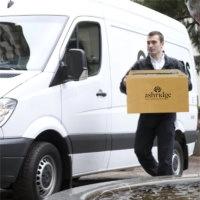 Delivered
Packaged by our experts and sent out by next day delivery.
Use bamboo as a privacy screen, ornamental focal point, or wildlife hedge. Check out some of our bamboo plants today.
Are bamboos invasive?
Buying bamboo plants in the UK can leave you with shoots popping up from your neighbour's yard if you're not careful to pick the right species. Essentially, bamboos grow in two ways: 1. Clumping varieties have strong, thick rhizomes that expand slowly. This allows the bamboo to focus its growth within a tight vertical clump, so it's non-invasive for your garden. 2. Running varieties have weaker rhizomes, so they spread aggressively underground. These bamboos grow quickly and make excellent screens. Plant them at one-metre intervals, but remember to barricade their roots, or they'll colonise entire areas. One example is the Phyllostachys nigra 'Black Bamboo'.
How can I control the growth of my bamboo trees?
The good news is that you can control the growth of your bamboo trees with a few simple methods: • Rhizome barriers: These are made of 80-mm thick HDPE plastic to contain the bamboo roots. Bury them 1.2 metres deep around the walls of the planting hole, with a 5-10 centimetres lip above soil level. • Weed killer: You can apply a Glyphosate-based herbicide or other weed killers to sections of unwanted growth. • Pruning: Use hedge trimmers or similar tools to trim extra height, cutting culms just above the node. Autumn is the best time to prune bamboo in the UK.
How fast does bamboo grow?
Bamboos are renowned for growing fast, about 60 centimetres per year for clumping varieties and 150 centimetres per year for running varieties. Growth rate and mature height will vary if you're in the North or South or whether they are in sheltered or exposed locations. Regardless, our bamboo plants are hardy enough for any region.
What can bamboo be used for?
You can harvest older bamboo canes to make garden stakes, tool handles, or fun art projects. It's robust, sturdy, yet flexible, so it works great for various uses.
How do you grow bamboo?
Moist, well-drained soils and full sun are best for your bamboo plants, but they'll do fine in poor soils and partial sun too. New plants will need more frequent watering while they establish their shallow roots. You can even plant bamboo in large container pots to restrict their growth. Line them in rows to decorate your driveway or patio!