Proteus Clematis Plants
Clematis Proteus

The details
Size: 2.5m x 1m
Colour: Purple-pink
Shape: Large, semi-double and single flowers
Scent: None
Flowering: May-Jun, Aug-Sep
Group: Climber
Deciduous foliage
Pruning group: 2
Choose a size
How are they measured?
Description
Clematis Proteus Plants
Proteus is a large flowering clematis with pale dusky pink-purple flowers in early summer, then again in late summer to autumn. The blooms are big, around 15cm in diameter, and tend to be double or semi-double in the first flush, then single for the second.
It's happiest in a bit of shade, and will even cope in full shade, so makes a brilliant climber for a north or east-facing border, grown up an established tree or shrub, or given a sturdy fence or pergola to clamber over.
Browse more clematis varieties.
Features
Size: 2.5m x 1m
Colour: Pale purple-pink
Shape: Large, to 15cm across, semi-double and single flowers
Scent: None
Flowering: May-June, then again August-September
Group: Climber
Deciduous foliage
Pruning group: 2
Growing Proteus Clematis
Like most coloured clematis, it is happiest in light shade, as full sun tends to bleach the flowers. They're big once mature, so make sure they have room to climb – either through a mature tree or shrub, or up a pergola or trellis-covered fence.
Plant in spring or autumn, a couple of feet away from the fence, digging in plenty of garden compost or leaf mould and burying the crown of the plant 5-8cm below the level it was at in the pot. This will encourage strong new shoots from the base of the plant.
Once planted, water in well and, if the base is going to be bathed in sunlight for most of the day, cover the soil around it with pebbles or small stones for shade and protection to ward off clematis wilt.
This is a group 2 clematis, so with new plants, prune hard to 30cm above ground level in February the first season after planting. Thereafter, prune once in February, removing any dead or damaged stems, and pruning to healthy buds to create a framework in the desired area. Then prune again in mid summer, to encourage a second flush, to a strong bud or side shoot just behind each spent bloom.
Keep clematis well watered, especially while establishing in the first year; they hate to dry out.
Planting Companions for Proteus
A large evergreen shrub makes a great support system for clematis; choisya will coincide with Proteus' first flowering, producing a lovely white and purple effect all over the bush. If you're planting this way, always plant your clematis on the north side of the host tree or shrub, as it will naturally make its way through towards the sun.
Combine with other clematis varieties for an explosion of colour and form. Try dark purple Daniel Deronda and bright pink Doctor Ruppel, which will flower simultaneously.
Did you know?
An old cultivar dating back to 1876, one of Charles Noble's many contributions to the clematis party. The parents were Clematis viticella Grandiflora and Fortunei. Its other name is The Premier.
Proteus was a Greek god of rivers or seas, known for his adaptable ways, and the English word protean is derived from this characteristic.
Clematis is a genus of more than 200 species of plants, some of which are evergreen, others deciduous. They all climb by twining their leaf stalks around their support. There are more than 400 different cultivars to choose from. In fact, they say you can grow a different clematis that will be in flower for every month of the year in the UK.
Clematis petals are, in fact, sepals, the part that encloses a flower. Hence, you can often find a green strips, or very occasionally some of the petals will revert and become green.
The flowers of clematis vary in size from 1-2cm to 20cm and come in a fabulous range of forms. These include singles, doubles, viticella (four petalled), saucer-shaped, star-shaped, bell-shaped, tulip-shaped and tubular.
Planting Instructions
How to plant Clematis Proteus
Choose a spot around 60cm from a support such as a trellis, fence, arbour or arch. Improve the soil from the hole by removing roots, weeds, large stones and other rubbish and mixing in about 25% by volume of well-rotted compost or manure.
Position your Clematis Proteus plant 5-8cm below the level it was at in its pot, then backfill the hole with mixed soil and compost, firming it gently as you go. Water in thoroughly. Surround with pebbles.
Prune to framework in February, then again lightly after first flush of flowers.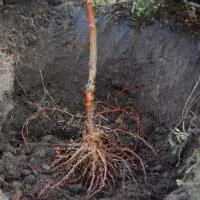 Bareroot?
Bareroot plants have no soil around the roots. They are light, easy to carry and plant.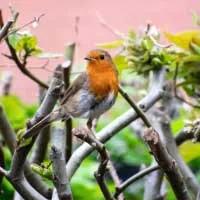 Perfect for Winter
The ground tends to be wet in winter, ideal for planting bareroot plants.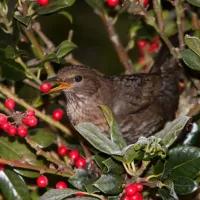 Value for money
You pay less for the same size bareroot plants, compared to potted.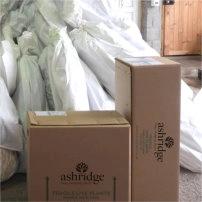 Delivered
Packaged by our experts and sent out by next day delivery.
Tag us @ashridgenurseries