Silver Margined Holly Hedge Plants
Ilex aquifolium 'Argentea Marginata'
The details
Ilex aquifolium 'Argentea Marginata'
Hedge Plants
Variegated Evergreen.
Hardy, tolerates full shade.
Any soil except swamp.
Good formal hedging.
Max. Height: 10m
Female plants, guaranteed to make red berries.
Excellent for bees.
RHS Award of Garden Merit
Potted Delivery: Year round.
Choose a size
How are they measured?
£
£14.94
£ 14.40
£ 14.28
£ 13.80
Delivery prices
Description
Ilex aquifolium Argentea Marginata - Variegated Holly Hedging
Delivered by Mail Order Direct from our Nursery with a Year Guarantee


Marginata is a large, prickly evergreen shrub or a medium tree that excels when planted as a hedge for security purposes. Variegated Holly has glossy green, spiny, shield-like leaves with distinctive pale yellow to white margins that create a wonderfully vivid foliage display.
As with normal Holly, the females carry bright red berries in late autumn and winter that, although inedible for humans, are both attractive to look at and a vital winter food source for birds and animals.
Variegated Holly is good for hedges up to about 10 metres high.
Browse all of our other varieties of Holly.

Variegated Holly hedge plants are only delivered pot-grown, year round.
Choosing a size:
When you are ordering Variegated Holly plants for a hedge, we generally recommend that you use the smaller plants, graded at 40/60cm. They are cheaper than large plants, easier to handle, and they will establish well in poor conditions.
Use larger plants if you want a taller hedge quickly if you want to clip them as topiary or for instant impact as a specimen shrub.
All our hedge plants are measured by their height in centimetres above the ground (the pots aren't measured).
Spacing a Variegated Holly hedge: Plant Variegated Holly hedging at 2 plants per metre, 50cm apart.
Young plants are a target for rabbits, and they like to chew straight through the stem, so younger 40/60 and 60/80cm holly plants will need protection with spirals or tree guards for the first couple of years. Bigger sizes have thicker stems and are unlikely to be targeted.
Like Yew, Holly it is on the RHS list of plants that are resistant to honey fungus.
Did You Know?
Since ancient times, the evergreen plants Holly and Ivy have been linked with the spirits of men and women respectively as they struggled to survive the winter. A white holly staff or spear was said to give men endurance and resistance to sickness; it was handy in a fight as well.
The Holly wreaths we decorate doors with at Christmas date back to different Roman and Celtic winter solstice traditions.
Planting Instructions
Growing Variegated Holly plants:
It is also extremely tough and will grow well in coastal areas and industrial zones.
Holly will cope with deep shade, even where the soil is poor and tends to dryness.
Their only requirement is a reasonably well-drained soil, but even then they will tolerate quite damp sites.
Prepare your site before planting:
It is good to dig over the area where you plant a hedge several months in advance, especially if the soil is poor. Destroy the weeds first: nettles, brambles and ground elder are tough and a glyphosate weed-killer is the best way to remove them. Then dig the soil over; remove rocks, roots and other rubbish. Mix in well rotted compost or manure down to the depth of about 2 spades. If your soil is rich, you don't have to dig it over, but killing all the weeds is still necessary.
Watch our video on how to plant a garden hedge for full details.
Remember to water establishing plants during dry weather for at least a year after planting.
Hedge Planting Accessories:
Prepare your site for planting by killing the weeds and grass with Neudorff WeedFree Plus. You can buy a hedge planting pack with sheets of mulch fabric and pegs to hold it down. If you are planting in an area with rabbit and/or deer, you will need to use a plastic spiral guard for each plant, supported by a bamboo cane.
If your soil quality is poor, we recommend using mycorrhizal "friendly fungi" on the roots of new trees and shrubs.
After Care
After you have planted your Variegated Holly hedge, the most important thing to do is water it in dry weather. You will also need to weed around the plants. Watering should be thorough, so the ground is soaked. Let the soil almost dry out before watering again. Watering & weeding will be necessary for at least a year after planting.
Like all evergreen plants, Variegated Holly is active and needs moisture in the ground throughout the year. This means that your establishing plants need to be watered in the winter when they are planted, if the weather is dry.
Trimming Formal hedge plants:
Variegated Holly is a relatively slow growing plant and OR is naturally bushy, so it doesn't need any clipping at all in its first year. In the winter of the year after planting, your young hedge should be trimmed lightly and every winter after that until it is mature.
When it is fully grown, you can clip it at anytime.
Special notes on caring for Variegated Holly hedges:
Variegated Holly is a very tough hedge plant that shouldn't need special attention once it has established. If you didn't use a mulch fabric, it is beneficial to mulch around the base of the hedge each year.

Hygiene & Diseases:
Dead, damaged or diseased wood can be pruned off as soon as it appears.
Disinfect your pruning tools between every cut if there is any sign of disease.
Burn or dispose of any diseased material, do not compost it.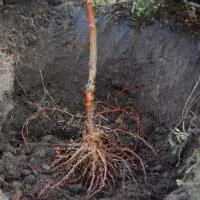 Bareroot?
Bareroot plants have no soil around the roots. They are light, easy to carry and plant.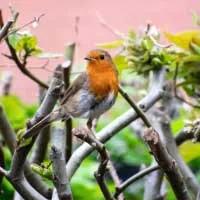 Perfect for Winter
The ground tends to be wet in winter, ideal for planting bareroot plants.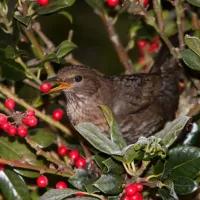 Value for money
You pay less for the same size bareroot plants, compared to potted.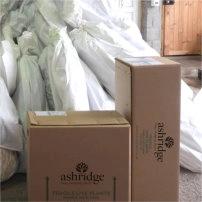 Delivered
Packaged by our experts and sent out by next day delivery.
Tag us @ashridgenurseries