Chive Plants
Allium schoenoprasum
The details
Allium schoenoprasum
Pot Grown Herbs
Height: 40 cm
Spread: 25-30 cm
Colour: green foliage, purple flowers
Flowers: May-July
Uses: culinary, salad, herb garden
Spacing: 15 cm
Scent: mild onion
Habit: upright
Life: hardy perennial
One of the four fines herbes
Choose a size
How are they measured?
Description
Allium schoenoprasum
Chives are a British herb garden staple. This upright mini member of our native onion family has long tubular leaves that shoot heavenwards like grass and, in spring, produce elegant globe-shaped, mauve flowers that attract pollinators to your garden. Once settled in, chives will spread outwards to fill in gaps between plants. Chives are one of those herbs that you will really use, effortlessly transforming the appearance and taste of most dishes. No self-respecting soup should be served without a snippet as a garnish, and woe betide the potato salad that lacks this crucial ingredient. It adds oniony oomph (without the tears) to salads, risottos and almost any egg or cheese dish.
Browse the rest of our herbs and vegetables.
Features
Height: 40 cm
Spread: 25-30 cm
Colour: green foliage, purple flowers
Flowers: May-July
Uses: culinary, herb garden, companion plant
Spacing: 20 cm
Scent: mild onion
Habit: upright
Life: hardy perennial
Growing Chives
A classic herb for beginners, all they need to thrive is a compost rich soil, a good amount of sun and regular watering in hot summer weather. As with all herbs, grow at least some close to your kitchen so that you can dash out and grab a handful when required. They will thrive in your window box with only a modicum of attention.
Unlike some of the more aromatic herbs like rosemary or sage, chives do not dry well. Use them fresh, or freeze them chopped up in ice cube trays for easy use over the winter months.
Planting Companions
Their erect habit makes them a stalwart edging plant to divide areas in your herb garden, or to run along edging stones and brick walls. They contrast beautifully with some of the more spreading herbs, like the thymes or marjoram.
Employ the beautiful purple flowers to make an edible salad cum table decoration that is eaten with cheese at the end of the meal. However, when you let them flower, the stalk that the flower emerges from will become tough. The best practice is to do a "Chelsea chop" in mid-spring, when they are beginning to form flower heads, and cut down half of your plants to 5 cm tall, letting the other half form flowers (bees will thank you); you will soon have another crop of lush new growth from the chopped half. Alternatively, with a bit more effort, remove the flower stem individually. Either way, cutting the plant right down after they flower will prevent self-seeding and encourage new growth. Trim them down every couple of months to prolong your cropping season.
Chives deter aphids and blackfly due to their strong smell ('Chives next to roses makes posies') and are commonly planted beside tomatoes, and also carrots to repel carrot fly. They are also said to prevent scab in apple trees.
Chivia
Chives is a French word derived from the Latin for onion, cepa. Allium schoenoprasum is the most common chive, but you can also search out garlic chives which have (needless to say) a garlicky flavour and a white flower.
There is a notion floating around the internet that chives were brought to the West from China by Marco Polo, where they had long enjoyed a place in their cuisine and were also used as an antidote to poison. However, this seems to be a misunderstanding, as they are native all over Asia and Europe. While we don't know for sure, it seems likely that he either brought back regional chives that are not significantly different to our native chives, or else he helped to make them much more popular because wealthy people were keen to sample the exotic recipes that used them and, unlike most other herbs and spices, chives don't dry (and therefore travel long distances) well, but obviously are easy to grow.
It is one of les fines herbes, and thus a cornerstone of French cuisine (the others are parsley, chervil, and tarragon).
Former scientific names include Allium oliganthum and Allium montanum.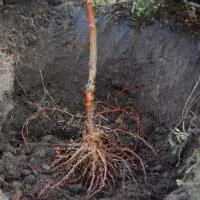 Bareroot?
Bareroot plants have no soil around the roots. They are light, easy to carry and plant.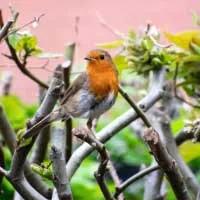 Perfect for Winter
The ground tends to be wet in winter, ideal for planting bareroot plants.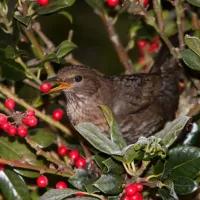 Value for money
You pay less for the same size bareroot plants, compared to potted.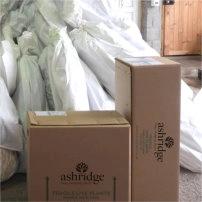 Delivered
Packaged by our experts and sent out by next day delivery.
Tag us @ashridgenurseries