Elspeth Thompson's Edible Hedge Plants
Mix of 9 Species in Bundles of 50 Plants
The details
Elspeth Thompson's Edible Hedging Collection
Bundles of 50 plants composed of 9 species
A more varied mix of edible plants.
Bareroot Delivery Only: Nov-Mar
Choose a size
How are they measured?
£
£ 104.99
£ 99.74
£ 94.49
£ 89.24
£ 83.99
Delivery prices
Description
Elspeth's Hedgerow Jam Edible Hedging Mix
This mixed hedge pack is a bundle of 50 plants that produce edible fruit, nuts and berries, with an emphasis more on hedgerow jam ingredients than our standard edible hedging, and it may include elderflower.
Please note: We will choose the plants that go into the hedge mix from the following list at the time of delivery. We cannot accept requests for specific plants to be used in your pack. If you want to be certain of having a particular plant in your hedge mix, please order it separately; you will save money on the same size plants by buying the hedge pack, though.
20% Hawthorn.
10% of eight other species chosen from the following: Blackthorn, Juneberry, Hazel, Cherry Plum, Crab Apple, Blackberry, Oleaster, Elder Flower, Dog Rose and Wild Pear.
This mix of edible plants is more varied than our basic edible hedge mix.
Elder (Sambucus nigra), isn't really suitable for planting in the middle of a mixed hedge because it will aggressively grow into the plants beside it. You can control this with pruning, but to save you the effort we recommend using it at the end of a hedge, on a strip by itself or planting it away from the hedge and letting it grow as a large shrub or small tree. Letting it grow freely will also give you a lot more flower heads to use; elderflower cordial will store for a long time, so it's not a problem if you make gallons of it.
Hawthorn berries don't have much flavour, and it is a bit of a chore to remove the seed from each little fruit (it's a good job for the kids), but they are nutritious and useful for bulking up a hedgerow jam: the same goes for rose hips, except that their flavour is unique, and the flowers taste good too - a pity you can't eat both in the same year.
For an additional crop, consider adding a medlar maiden to the sunny end of your hedgerow, it makes a lush "bookend" and complements the mix well in Autumn.

Edible hedge packs are only delivered bareroot, during winter (November - March). The plants in this pack will be 40-80cm tall when we deliver them. All our hedge plants are measured by their height in centimetres above the ground (the roots aren't measured).
Spacing an Edible hedge:
Because you will want these plants to bear lots of fruit, you could well space the plants a bit further apart, especially if security isn't an issue.
Normal hedging is in a single row at 3 plants per metre, 33cm apart, for a normal garden boundary.
You could plant at 6 plants per metre in a staggered double row, with 33cm between each plant along the row and 40cm between the rows, but that's a bit pointless with this hedge mix, as the interior half of each row won't fruit at all.
If you wanted a double row, you could use (for example) a conservation hedge mix for the row that gets the least sun (or faces the road) and the edible mix for the row that gets the most sun (or faces your garden) would be better value.
Each pack of 50 plants will make 16 metres of single row hedge and 8 metres of double row hedge.
View our selection of hedging packs or see our full range of hedging options.
This hedge pack follows a "recipe" much favoured by Elspeth Thompson, 1961-2010. A great gardener and good friend to Ashridge. Much missed.
Planting Instructions
Growing Edible plants:
For best results, plant your edible hedge mix in fertile, well drained soil on a sunny site. These plants are all tough and will grow in poor conditions, but they will not be as productive.
They will not grow well if the site is boggy or very shady.
Prepare your site before planting:
It is good to dig over the area where you plant a hedge several months in advance, especially if the soil is poor. Destroy the weeds first: nettles, brambles and ground elder are tough and a glyphosate based weed-killer is the best way to remove them. Then dig the soil over; remove rocks, roots and other rubbish. Mix in well rotted compost or manure down to the depth of about 2 spades. If your soil is rich, you don't have to dig it over, but killing all the weeds is still necessary.
Watch our video on how to plant a country hedge for full details. You do not need to cut the plants in half after planting. It won't hurt the plants if you do, but it is only really necessary for stockproof country hedging. It is not essential to use mulch fabric if your hedge will be easy to water and maintain.
Remember to water establishing plants during dry weather for at least a year after planting.
Hedge Planting Accessories:
Prepare your site for planting by killing the weeds and grass with Roundup weed killer.
You can buy a hedge planting pack with sheets of mulch fabric and pegs to hold it down.
If you are planting in an area with rabbit and/or deer, you will need to use a plastic spiral guard for each plant, supported by a bamboo cane.
If your soil quality is poor, we recommend using mycorrhizal "friendly fungi" on the roots of new trees and shrubs.
You can also improve your soil with bonemeal organic fertiliser and Growmore.
After you plant a hedge, the most important thing to do is water it in dry weather. If you didn't use mulch of some kind, you will also need to weed around the hedge. Both of these will be necessary for at least a year after planting.
Trimming Edible hedge plants: From the winter after planting onwards, your young hedge should be trimmed lightly once every winter, until it is mature. When it is fully grown, you can clip it at anytime. A good time to clip mature Edible hedges is after everything has been harvested in late Autumn.
Special notes on caring for Edible hedges:
If you want to get decent crops from your hedge, you cannot keep it closely trimmed. One way to trim it is to allow the mature hedge to grow freely for a year, then cut it back hard the following year. Another system is to cut back one side of the hedge each year and harvest the other side.
The blackberry bushes in the hedge should have their old, thick canes cut out at the base every year or two in winter. Just reach into the base of the hedge with gloves and secatuers to cut through the biggest blackberry stems. This will make room for new, more productive shoots and it will also stop the blackberries from taking over the hedge. You can remove the old canes after cutting them at the base if you like, but it is fine to leave them in the hedge.
The plants in this mix are very tough and they shouldn't need special attention once they have established. If you didn't use a mulch fabric, it is beneficial to mulch around the base of the hedge each year with well rotted manure or compost.
Hygiene & Diseases:
Dead, damaged or diseased wood can be pruned off as soon as it appears.
Disinfect your pruning tools between every cut if there is any sign of disease.
Burn or dispose of any diseased material, do not compost it.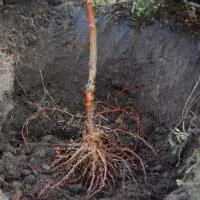 Bareroot?
Bareroot plants have no soil around the roots. They are light, easy to carry and plant.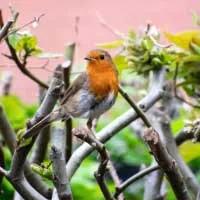 Perfect for Winter
The ground tends to be wet in winter, ideal for planting bareroot plants.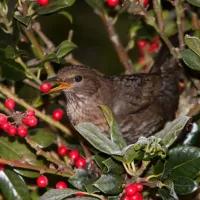 Value for money
You pay less for the same size bareroot plants, compared to potted.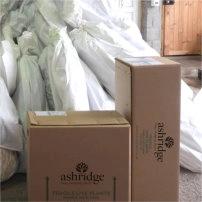 Delivered
Packaged by our experts and sent out by next day delivery.
Tag us @ashridgenurseries